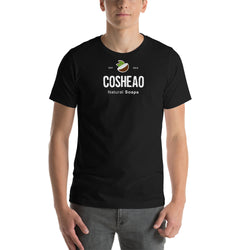 Short-Sleeve Unisex T-Shirt
This t-shirt is everything you've dreamed of and more. It feels soft and lightweight, with the right amount of stretch. It's comfortable and flattering for both men and women.

• 100% combed and ring-spun cotton (Heather colors contain polyester)
• Ash color is 99% combed and ring-spun cotton, 1% polyester
• Heather colors are 52% combed and ring-spun cotton, 48% polyester
• Athletic and Black Heather are 90% combed and ring-spun cotton, 10% polyester
• Heather Prism colors are 99% combed and ring-spun cotton, 1% polyester
• Fabric weight: 4.2 oz (142 g/m2)
• Pre-shrunk fabric
• Side-seamed construction
• Shoulder-to-shoulder taping
Why Buy Cosheao soaps?

You should buy our soaps if you are looking for all-natural soaps that are a pleasure to use, and that leave your skin feeling clean, smooth, silky soft, and radiantly healthy. Our soaps smell great and look beautiful too!
If you are reading this, chances are you are looking for an all-natural hand-made soap and you are wondering if Cosheao soaps are the right choice for you.
I believe they are!
There are so many varieties of hand-made soaps out there so in order to find the right one for you, you'd really need to try all of them. That, however, will require a lot of time and a considerable amount of money. And is also probably not feasible to do anyway.
What I suggest instead, is to shortcut these efforts by reading about my experience.
You are probably thinking "why should I believe this lady, she's the one selling the soaps!"
I am not a doctor, I don't have a chemistry degree, and I have learned to make soap on my own.
What I have, tho, is a 15+ years of soap making experience, and the perfect driving force to make me good at it (my personal health struggles story) and to make the healthiest soaps available out there. I also like beautiful things so I try to make my products beautiful as well.
So whether you chose to believe me, trust the hundreds of raving customer reviews, or simply decide to try our soaps and see for yourself — I'll be right here to provide you with beautiful 100% natural soaps — my Cosheao soaps.

What does Cosheao soap mean by "all natural soap"?
Natural soap means a true soap made by saponifying plant-based whole oils (not isolated fatty acids). At Cosheao soaps, we use only certified organic oils for our bar soap and liquid soap base recipes. Our soaps do not contain surfactants. We oppose the body care industry's use of the word "natural" to include synthetic fragrances, colorants, and preservatives. We believe the use of the phrase "natural fragrance" to describe scents that are not direct plant extracts is deceiving to consumers that want to trust the labels they read. We add no artificial substances to our soaps, such as synthetic fragrances, dyes, and preservatives, and where possible, we use organically grown products. All our soaps are scented with essential oils only. We color our soap with a variety of organic herbs and plant derived products. For custom production, we will also use mineral pigments. Our products contain no parabens. Read through our ingredient list to see what we mean by "natural soap."
Then, to really see what we mean, take a copy of our ingredients with you next time you go to the store and compare them to the ingredients of soaps on the shelves. Your skin will know the difference.

What makes a good bar soap?
A good bar soap balances bar hardness (durability), lather quality (both fluffiness and stability), and moisturizing ability. These different properties come from the different fatty acids that make up molecules of the organic vegetable oils we use as the base of our herbal soap. Unfortunately, the fatty acids that are moisturizing are not those that contribute much to lather quality, and the ones that make great lather are drying to our skin. A perfect bar soap is the result of carefully balancing the fatty acids to maximize the bar's hardness, lather quality, and moisturizing ability. Still confused? Try our herbal soap. Trust us.
We strongly believe in our products and want every customer to be satisfied. This is the reason for the Cosheao soaps Customer Service Guarantee. Due to inevitable fraudulent activity e Solace Soaps will only accept returns of merchandise purchased directly from Cosheao soaps and in accordance with the following:
Shipping costs are non-refundable
Refunds may take at least one week to process.
Soap – Must be unopened and in the original packaging to be considered for a refund.
To be considered for a refund, e Cosheao soaps must receive the respective item within fourteen (14) days of the item's purchase date. In all cases, refunds will be made ONLY to the credit card / Paypal used for the original purchase. It may take up to two (2) billing cycles for the refund credit to appear on your statement.
Returns that originate from outside the continental United States will not have return slips sent for the respective merchandise. Purchaser is responsible for procuring shipment and for the merchandise arriving at Cosheao facilities.
The original packing slip is required for merchandise to be considered for reimbursement.
Please note that we do not have the ability to track your return nor are we responsible for the amount of time it takes for the item to be returned.
Cosheao soaps IS NOT RESPONSIBLE FOR LOST OR STOLEN MERCHANDISE.